Warning: Trying to access array offset on value of type bool in /home/vhoblsvb/public_html/wp-content/plugins/woocommerce/includes/wc-template-functions.php on line 1605

Warning: Trying to access array offset on value of type bool in /home/vhoblsvb/public_html/wp-content/plugins/woocommerce/includes/wc-template-functions.php on line 1606

Warning: Trying to access array offset on value of type bool in /home/vhoblsvb/public_html/wp-content/plugins/woocommerce/includes/wc-template-functions.php on line 1607

Warning: Trying to access array offset on value of type bool in /home/vhoblsvb/public_html/wp-content/plugins/woocommerce/includes/wc-template-functions.php on line 1608

Warning: Trying to access array offset on value of type bool in /home/vhoblsvb/public_html/wp-content/plugins/woocommerce/includes/wc-template-functions.php on line 1617

Warning: Trying to access array offset on value of type bool in /home/vhoblsvb/public_html/wp-content/plugins/woocommerce/includes/wc-template-functions.php on line 1617

Warning: Trying to access array offset on value of type bool in /home/vhoblsvb/public_html/wp-content/plugins/woocommerce/includes/wc-template-functions.php on line 1605

Warning: Trying to access array offset on value of type bool in /home/vhoblsvb/public_html/wp-content/plugins/woocommerce/includes/wc-template-functions.php on line 1606

Warning: Trying to access array offset on value of type bool in /home/vhoblsvb/public_html/wp-content/plugins/woocommerce/includes/wc-template-functions.php on line 1607

Warning: Trying to access array offset on value of type bool in /home/vhoblsvb/public_html/wp-content/plugins/woocommerce/includes/wc-template-functions.php on line 1608

Warning: Trying to access array offset on value of type bool in /home/vhoblsvb/public_html/wp-content/plugins/woocommerce/includes/wc-template-functions.php on line 1617

Warning: Trying to access array offset on value of type bool in /home/vhoblsvb/public_html/wp-content/plugins/woocommerce/includes/wc-template-functions.php on line 1617

97,00 € 97,00 €
16-Port 10/100/1000Mbps Gigabit Ethernet Switch
Descripción
Cost-Effective Gigabit Solution for Enterprise Backbone and Data Center Networking
The PLANET GSW-1601 provides 16 RJ-45 10/100/1000Mbps ports for high-speed network connectivity. It can automatically identify and determine the correct transmission speed and half / full duplex mode of the attached devices with its 16 Gigabit ports that support 9K jumbo frame feature. Therefore, the GSW-1601 can handle extremely large amounts of data transmission in a secure topology linking to a backbone or high-power servers.

High Performance
The GSW-1601 provides high performance architecture of switch that is capable of providing the non-blocking switch fabric and wire-speed throughput as high as 32Gbps, which greatly simplifies the tasks of upgrading the LAN for catering to increasing bandwidth demands. Besides, the Flow Control function of the GSW-1601 enables routers and servers directly connect to the Switch for fast and reliable data transfer.
All RJ-45 copper interfaces in the GSW-1601 support 10/100/1000Mbps Auto-Negotiation for optimal speed detection through RJ-45 Category 6, 5 or 5e cables. It also supports standard for Auto-MDI/MDI-X that can detect the type of connection to any Ethernet device without requiring special straight or crossover cables.
Excellent Traffic Transmission
The GSW-1601 supports Store-and-Forward forwarding scheme to ensure low latency and high data integrity, which eliminates unnecessary traffic and relieves congestion on critical network paths. With an intelligent address recognition algorithm, the GSW-1601 could recognize up to 8K different MAC address. The high data throughput and 32Gbps internal switching fabric makes it ideal for most Gigabit environments, especially when network upgrades to a Gigabit environment.
Backbone Switch
With up to 32 Gigabits per second of non-blocking switch fabric, the GSW-1601 can easily provide the high bandwidth required both now and future.

Server Farm Switch
Providing 16 Gigabit Ethernet ports, the GSW-1601 is ideal to be used as a server farm Switch connecting to your servers and powerful desktops.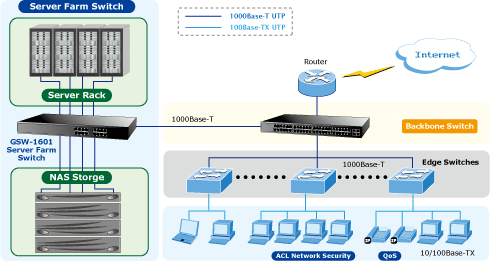 HARDWARE SPECIFICATION
Hardware Version Version 5
10/100/1000Base-T MDI/MDIX Ports 16
Throughput (packet per second) 23.8Mpps
Switch fabric 32Gbps
Weight 1.9 kg
Power Consumption / Dissipation 13 Watts / 44 BTU
Power Requirement 100~240 VAC, 0.6A, 50-60 Hz
Dimension (W x D x H) 440 x 180 x 44 mm, 1U height
Switch Processing Scheme Store-and-Forward
Address Table 8K entries
Jumbo packet size 9K
Flow Control Back pressure for half duplex, IEEE 802.3x Pause Frame for full duplex
Temperature
Operating: 0~50 Degree C
Storage: -10~70 Degree C
Humidity
Operating: 5 ~ 95%
Storage: 5 ~ 95% (Non-condensing)
STANDARDS CONFORMANCE
Regulation Compliance FCC Part 15 Class A, CE
Standards Compliance
IEEE 802.3 (Ethernet)
IEEE 802.3u (Fast Ethernet)
IEEE 802.3ab(Gigabit Ethernet)
IEEE 802.3x (Full-duplex flow control)
Lo más reciente en Sistematics.info: