Warning: Trying to access array offset on value of type bool in /home/vhoblsvb/public_html/wp-content/plugins/woocommerce/includes/wc-template-functions.php on line 1605

Warning: Trying to access array offset on value of type bool in /home/vhoblsvb/public_html/wp-content/plugins/woocommerce/includes/wc-template-functions.php on line 1606

Warning: Trying to access array offset on value of type bool in /home/vhoblsvb/public_html/wp-content/plugins/woocommerce/includes/wc-template-functions.php on line 1607

Warning: Trying to access array offset on value of type bool in /home/vhoblsvb/public_html/wp-content/plugins/woocommerce/includes/wc-template-functions.php on line 1608

Warning: Trying to access array offset on value of type bool in /home/vhoblsvb/public_html/wp-content/plugins/woocommerce/includes/wc-template-functions.php on line 1617

Warning: Trying to access array offset on value of type bool in /home/vhoblsvb/public_html/wp-content/plugins/woocommerce/includes/wc-template-functions.php on line 1617

Warning: Trying to access array offset on value of type bool in /home/vhoblsvb/public_html/wp-content/plugins/woocommerce/includes/wc-template-functions.php on line 1605

Warning: Trying to access array offset on value of type bool in /home/vhoblsvb/public_html/wp-content/plugins/woocommerce/includes/wc-template-functions.php on line 1606

Warning: Trying to access array offset on value of type bool in /home/vhoblsvb/public_html/wp-content/plugins/woocommerce/includes/wc-template-functions.php on line 1607

Warning: Trying to access array offset on value of type bool in /home/vhoblsvb/public_html/wp-content/plugins/woocommerce/includes/wc-template-functions.php on line 1608

Warning: Trying to access array offset on value of type bool in /home/vhoblsvb/public_html/wp-content/plugins/woocommerce/includes/wc-template-functions.php on line 1617

Warning: Trying to access array offset on value of type bool in /home/vhoblsvb/public_html/wp-content/plugins/woocommerce/includes/wc-template-functions.php on line 1617

220,00 € 220,00 €
4-Port 100Base-FX POF + 2 Gigabit Web Smart Switch
Descripción
Simple, Stable, High performance Home Fiber Solution
To easily integrate to the household use, PLANET Technology releases the POF (Plastic Optical Fiber)Web Smart Switch, FSD-624SF. With its easy installation and highly stable data transmission performance via Fast / Gigabit Ethernet, the FSD-624SF is an ideal device for Home fiber solution and FTTH (Fiber to the Home) applications.

Easy and Self Installation
The FSD-624SF provides four 100Base-FX POF Fast Ethernet ports and two Gigabit Ethernet ports (one 1000Base-T port and one Gigabit mini-GBIC interface). Its fiber-optic interface is the form factor of SMI (Small Multimedia Interface), one kind of POF (Plastic Optic Fiber) interface that offers high-speed data transmission in low cost. The two Gigabit ports either can be 1000Base-T for 10/100/1000Mbps or 1000Base-SX/LX through SFP (Small Factor Pluggable) interfaces. The transmission distance can be extended from 100 meters (TP), 550 meters (Multi-mode fiber), up to 10, 20kilometers, max. 120 kilometers (Single-mode fiber).
IPTV, VOD and Multicast services
The FSD-624SF is equipped with non-blocking 4.8Gbps backplane, greatly simplifies the tasks of upgrading your LAN for catering to increasing bandwidth demands. To manage the switch efficiently, the FSD-624SF is equipped with Web interface for remote management. The FSD-624SF can be programmed for advanced switch management functions such as port configuration, port-based / IEEE 802.1Q / MTU VLAN, port mirroring, QoS, bandwidth control, broadcast storm control, MAC address / TCP & UDP filter and IGMP Snooping v1/v2. For VLAN features provided by the FSD-624SF, the VLAN groups allowed will be maximally up to 6 for port-based VLAN or 32 for IEEE 802.1Q VLAN. The MTU VLAN feature allows the administrator to assign per port as separate LAN group and only can access the public port G1 or public port G1/G2.
Low-Cost and High-Speed Data Transmission
The 4-Port 100Base-FX POF fiber interfaces supports 100Mbps full-duplex operation mode (Auto negotiation or force mode option). The SMI path cord meets the IEEE 1394b specification that can transmit data at S200 (250Mbps) speed for 50 meters. With its Auto-Negotiation capability, the 1000Base-T RJ-45 port of Web Smart Switch can be configured to speeds of 10/20Mbps or 100/200Mbps via Fast Ethernet, and 1000/2000Mbps via Gigabit Ethernet automatically. In addition, the FSD-624SF is equipped with the MDI / MDI-X auto detection for easily plug and play connection, regardless of cabling types in straight through or crossover.
Home Fiber Switch
With four 100Base-FX POF ports and two Gigabit ports (One 1000Base-T copper and one Gigabit mini GBIC interface), the FSD-624SF can building a data and reliable network solution of FTTH (Fiber to the Home) or small office network environment.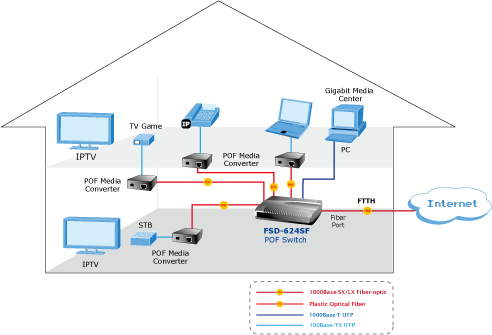 HARDWARE SPECIFICATION
100Base-FX POF Ports 4
Gigabit ports One 1000Base-T port and one Gigabit mini-GBIC SFP interface
Switch Processing Scheme Store-and-Forward
Throughput (packet per second) 3.57Mpps
Switch Fabric 4.8Gbps
Address Table 4K entries
Share Data Buffer 2.75Mb embedded memory for packet buffers
Flow Control Back pressure for half duplex, IEEE 802.3x Pause Frame for full duplex
Dimension (W x D x H) 186 x 143 x 35 mm
Weight 370g
Power Requirement DC 5V 2A
Power Consumption / Dissipation 9.6watts / 32BTU
Temperature
Operating: 0~50 Degree C
Storage: -40~70 Degree C
Humidity
Operating: 5~90%
Storage: 5~90% (Non-condensing)
SMART FUNCTION
System Configuration Web interface
Port configuration
Port speed duplex mode selection
Flow control disable / enable
Port disable / enable
Port description on each port
Bandwidth Control Yes, 1 / 2 / 4 / 8 / 16 / 32 / 64Mbps
Broadcast Storm Control Yes, 5% / 10% / 25% / 50% / Disable
Port Statistics Display each port's detail Ethernet traffic counter information
VLAN 6 port-based VLAN groups / 32 IEEE 802.1Q VLAN groups / MTU VLAN
Port Mirroring Port mirroring allows monitoring of the traffic across any port in real time
QoS
Allow to assign low / high priority on each port
First-In-First-Out, All-High-before-Low, Weight-Round-Robin QoS policy
MAC address / TCP & UDP filter Yes
IGMP Snooping v1 / v2 Allow to disable or enable
STANDARD CONFORMANCE
Regulation Compliance FCC Part 15 Class A, CE
Standards Compliance
IEEE 802.3 (Ethernet)
IEEE 802.3u (Fast Ethernet)
IEEE 802.3ab (Gigabit Ethernet)
IEEE 802.3z (Gigabit Ethernet)
IEEE 802.3x (Full-duplex flow control)
IEEE 802.1Q VLAN
IEEE 802.1p QoS
ACCESORIES
MGB-GT SFP-Port 1000Base-T mini-GBIC module
MGB-L120 SFP-Port 1000Base-LX mini-GBIC module -120KM
MGB-L30 SFP-Port 1000Base-LX mini-GBIC module -30KM
MGB-L50 SFP-Port 1000Base-LX mini-GBIC module -50KM
MGB-L70 SFP-Port 1000Base-LX mini-GBIC module -70KM
MGB-LA10 SFP-Port 1000Base-LX mini-GBIC module- LC WDM(TX:1310nm), SM,10km
MGB-LA20 SFP-Port 1000Base-LX mini-GBIC module- LC WDM(TX:1310nm), SM,20km
MGB-LA40 SFP-Port 1000Base-LX mini-GBIC module- LC WDM(TX:1310nm), SM,40km
MGB-LB10 SFP-Port 1000Base-LX mini-GBIC module- LC WDM(TX:1550nm), SM,10km
MGB-LB20 SFP-Port 1000Base-LX mini-GBIC module- LC WDM(TX:1550nm), SM,20km
MGB-LB40 SFP-Port 1000Base-LX mini-GBIC module- LC WDM(TX:1550nm), SM,40km
MGB-LX SFP-Port 1000Base-LX mini-GBIC module
MGB-SX SFP-Port 1000Base-SX mini-GBIC module
Lo más reciente en Sistematics.info: