Warning: Trying to access array offset on value of type bool in /home/vhoblsvb/public_html/wp-content/plugins/woocommerce/includes/wc-template-functions.php on line 1605

Warning: Trying to access array offset on value of type bool in /home/vhoblsvb/public_html/wp-content/plugins/woocommerce/includes/wc-template-functions.php on line 1606

Warning: Trying to access array offset on value of type bool in /home/vhoblsvb/public_html/wp-content/plugins/woocommerce/includes/wc-template-functions.php on line 1607

Warning: Trying to access array offset on value of type bool in /home/vhoblsvb/public_html/wp-content/plugins/woocommerce/includes/wc-template-functions.php on line 1608

Warning: Trying to access array offset on value of type bool in /home/vhoblsvb/public_html/wp-content/plugins/woocommerce/includes/wc-template-functions.php on line 1617

Warning: Trying to access array offset on value of type bool in /home/vhoblsvb/public_html/wp-content/plugins/woocommerce/includes/wc-template-functions.php on line 1617

Warning: Trying to access array offset on value of type bool in /home/vhoblsvb/public_html/wp-content/plugins/woocommerce/includes/wc-template-functions.php on line 1605

Warning: Trying to access array offset on value of type bool in /home/vhoblsvb/public_html/wp-content/plugins/woocommerce/includes/wc-template-functions.php on line 1606

Warning: Trying to access array offset on value of type bool in /home/vhoblsvb/public_html/wp-content/plugins/woocommerce/includes/wc-template-functions.php on line 1607

Warning: Trying to access array offset on value of type bool in /home/vhoblsvb/public_html/wp-content/plugins/woocommerce/includes/wc-template-functions.php on line 1608

Warning: Trying to access array offset on value of type bool in /home/vhoblsvb/public_html/wp-content/plugins/woocommerce/includes/wc-template-functions.php on line 1617

Warning: Trying to access array offset on value of type bool in /home/vhoblsvb/public_html/wp-content/plugins/woocommerce/includes/wc-template-functions.php on line 1617

529,00 € 529,00 €
24-Port 10/100Mbps + 2 Gigabit TP / SFP Managed 802.3at PoE Switch
Descripción
High Power PoE for Security and Public Service PoE Applications
The PLANET WGSW-2620HP, the next generation Managed PoE Switch, features IEEE 802.3af and High Power IEEE 802.3at Power over Ethernet (PoE) that combines up to 30 Watts power output and data per port over one CAT 5E/6 Ethernet cable. It is designed specifically to satisfy the growing demand of higher power consuming network PD (powered devices) such as PTZ (Pan, Tilt & Zoom) / Speed Dome network cameras, multi- channel (802.11a/b/g/n) wireless LAN access points and other network devices by providing double PoE power than conventional 802.3af PoE currently.

Flexible PoE System Management
The PoE in-line power following the IEEE 802.3af and IEEE 802.3at standards makes the WGSW-2620HP able to power on 24 IEEE 802.3af PoE devices or 12 IEEE 802.3at PoE devices at the distance up to 100 meters through the 4-pair Cat 5/5e UTP wire. The WGSW-2620HP provides advanced PoE management functions and high reliability. It features System PoE Admin Mode for users to switch PoE system mode between IEEE 802.3af and IEEE 802.3at easily and flexibly. The Temperature Threshold and PoE Usage Threshold also enable more exact reliability control.
Cost-effective Solution with SNMP Monitor for Network Deployment
The cost-effective PoE Managed Switch WGSW-2620HP is released for catering not only to the need of easy Web-Based management but also the centralized SNMP application to monitor the status of Switch and traffic per port. The key features of the WGSW-2620HP are as below:
High Performance Wire-Speed Switching
The WGSW-2620HP offers 24 10/100Mbps Fast Ethernet ports with 2 Gigabit TP/SFP combo ports (Port-25, 26). The two Gigabit TP/SFP combo ports can be either 1000Base-T for 10/100/1000Mbps or 1000Base-SX/LX through SFP (Small Form-Factor Pluggable) interface. The WGSW-2620HP boasts a high performance switch architecture that is capable of providing non-blocking switch fabric and wire-speed throughput as high as 8.8Gbps. Its two built-in GbE uplink ports also offer incredible extensibility, flexibility and connectivity to the Core switch or Servers.
Remote and Centralized Management
Afford the current network to grow and expand, the WGSW-2620HP provides advanced Web and SNMP management interface for efficient network operation. With its built-in Web-Based management, the WGSW-2620HP offers an easy-to-use, platform-independent management and configuration facility. It also supports standard Simple Network Management Protocol (SNMP) and can be monitored via any standard-based management software.
For efficient management, via Web interface the WGSW-2620HP can be programmed for basic switch management functions such as port speed configuration, Port Trunking, VLAN, Port Mirroring, Rapid Spanning Tree and Misc Configuration. Additionally, the firmware includes advanced features such as IGMP snooping, QoS (Quality of Service), broadcast storm and bandwidth control, to enhance bandwidth utilization.
Powerful Security
The WGSW-2620HP offers comprehensive Access Control List (ACL) for enforcing security to the edge. Its protection mechanisms comprises of Port-Based 802.1X user and device authentication. Moreover, the Switch provides MAC filter and Static MAC to enforce security policies to the edge. The administrators can now construct highly secured corporate networks with considerably less time and effort than before.
IP Office Department / Workgroup PoE Switch
As the business expands, the additional telephones required could be installed in less cost via the implementation of PoE IP Telephony system than that of the traditional circuit wiring telephony system. PLANET WGSW-2620HP Managed PoE Switch helps enterprises to efficiently create an integrated data, voice, and powered VoIP network. PLANET IEEE 802.3af compliant IP Phones can be installed without any power cable because it can be powered via the standard Ethernet cable from the connected WGSW-2620HP. With the WGSW-2620HP, IP Telephony deployment becomes more
reliable and cost effective, which helps enterprises save tremendous cost when upgrading from the traditional telephony system to IP Telephony communications infrastructure.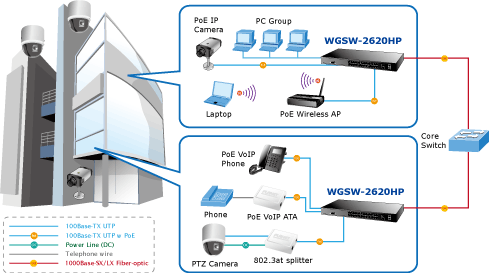 IP Office Backbone PoE Switch
Providing up to 24 PoE, in-line power interfaces and 2 Gigabit TP / SFP combo interfaces, the WGSW-2620HP can easily build a power centrally controlled IP phone system, IP Camera system, or wireless AP group for the enterprises. For instance, IP cameras or wireless APs can be easily installed in the company for surveillance demands or building a wireless roaming environment in the office. Without the power-socket limitation, this Managed PoE Switch makes the deployment of IP cameras or Wireless LAN AP more easily and efficiently. The 2 Gigabit TP / SFP combo interfaces in the WGSW-2620HP also provide flexible Gigabit TP or fiber connection for uplink to public server groups.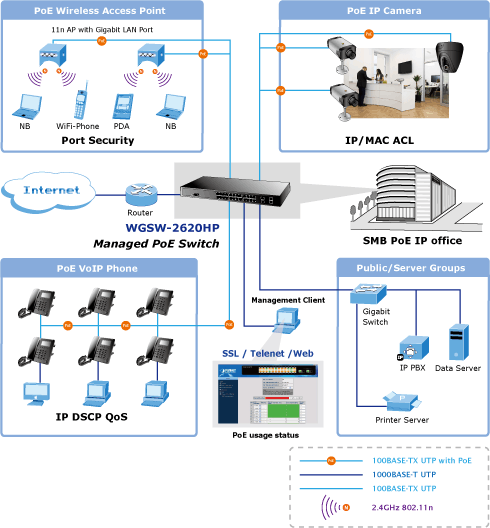 HARDWARE SPECIFICATION
10/100Mbps Copper Ports 24 10/ 100Base-TX RJ-45 Auto-MDI/MDI-X ports
1000Mbps Copper Ports 2 10/100/1000Mbps RJ-45 Auto-MDI/MDI-X ports
SFP/mini-GBIC Slots 2 1000Base-SX/LX/BX, shared with Port-25~Port-26
Switch Architecture Store-and-Forward
Switch Fabric 8.8Gbps / non-blocking
Switch Throughput 6.547Mpps @64Bytes
Address Table 8K entries
Share Data Buffer 512 Kbytes
Flash 4MB
DRAM 32MB
Maximum Frame Size 9K Bytes
Flow Control
Back pressure for Half-Duplex
IEEE 802.3x Pause Frame for Full-Duplex
LED
Power, PoE Power, FAN Alert
Link / Activity (Green)
PoE In-Use (Amber)
1000 LNK / ACT (Green)
10/100 LNK / ACT (Green)
Dimension (W x D x H) 440 x 120 x 44 mm, 1U height
Weight 3.6Kg
Reset Button
< 5 secs: System reboot > 10 sec: Factory Default
Power Input 100 – 240VAC, 50 – 60Hz, Auto-sensing
Power Consumption
System
 ‧110V: 29 Watts / 98BTU
 ‧220V: 31 Watts / 105BTU
Ethernet Full Loading
 ‧110V: 34 Watts / 116BTU
 ‧220V: 35 Watts / 119BTU
PoE Full Loading
 ‧110V: 360 Watts / 1228BTU
 ‧220V: 360 Watts / 1228BTU
POWER OVER ETHERNET
PoE Standard IEEE 802.3af / IEEE 802.3at Power over Ethernet / PSE
PoE Power Supply Type End-Span
Power Pin Assignment 1/2(+), 3/6(-)
PoE Power Output
Per Port 52V DC, 350mA . Max.15.4 Watts (IEEE 802.3af)
Per Port 52V DC, 590mA. Max. 30 Watts (IEEE 802.3at)
PoE Power Budget 360 Watts (Port 1 to port 12: 180 Watts, port 13 to port 24: 180 Watts)
Max. number of Class 1 PD 24
Max. number of Class 2 PD 24
Max. number of Class 3 PD 24
Max. number of Class 0, 4 PD 11
LAYER 2 FUNCTION
Management Interface Console, Telnet, Web Browser, SSL, SNMPv1, v2c, v3
Port Configuration
Port disable/enable.
Auto-negotiation 10/100Mbps full and half duplex mode selection.
Flow Control disable / enable.
Bandwidth control and broadcast storm filter on each port.
Port Status
Display each port's speed duplex mode, link status and Flow control status
Auto negotiation status, trunk status
Port Mirroring
TX / RX / Both
1 to 1 monitor
Bandwidth Control
Ingress / Egress Rate Control
 •Allow to configure per 128Kbps
VLAN
IEEE 802.1Q Tag-Based VLAN, up to 255 VLANs groups, out of 4041 VLAN IDs
Port-Based VLAN
Q-in-Q tunneling
GVRP for VLAN Management, up to 128 dynamic VLAN entries
Private VLAN Edge (PVE / Protected port) with two protected port groups
Link Aggregation
Static Port Trunk
IEEE 802.3ad LACP (Link Aggregation Control Protocol)
Supports 13 groups of 8-Port trunk support
QoS
4 priority queue
Traffic classification based on:
  ‧ Port priority
  ‧ 802.1p priority
  ‧ DSCP/TOS field in IP Packet
IGMP Snooping
IGMP (v1/v2) Snooping, up to 256 multicast Groups
Access Control List
IP-Based Layer 3 / Layer 4 ACL
Up to 200 ACL rule entries
SNMP MIBs
RFC-1213 MIB-II
RFC-2863 Interface MIB
RFC-2665 EtherLike MIB
RFC-1493 Bridge MIB
RFC-2819 RMON MIB (Group 1, 2, 3,9)
RFC-2737 Entity MIB
POWER-ETHERNET-MIB
STANDARDS CONFORMANCE
Standards Compliance
IEEE 802.3:10Base-T
IEEE 802.3u:100Base-TX
IEEE 802.3z:1000Base-SX/LX
IEEE 802.3ab:1000Base-T
IEEE 802.3x:Flow Control and Back pressure
IEEE 802.3ad:Port trunk with LACP
IEEE 802.1D:Spanning Tree Protocol
IEEE 802.1s:Multiple Spanning Tree Protocol
IEEE 802.1p:Class of Service
IEEE 802.1Q:VLAN Tagging
IEEE 802.1x:Port Authentication Network Control
IEEE 802.3af:Power over Ethernet
IEEE 802.3at:Power over Ethernet
RFC 768:UDP
RFC 793:TFTP
RFC 791:IP
RFC 792:ICMP
RFC 2068:HTTP
RFC 1112:IGMP version 1
RFC 2236:IGMP version 2
ENVIRONMENT
Operating
Temperature: 0 ~ 50 Degree C
Relative Humidity: 20 ~ 95%
Storage
Temperature: -10 ~ 70 Degree C
Relative Humidity: 20 ~ 95% (non-condensing)
Accessories
MGB-GT SFP-Port 1000Base-T mini-GBIC module
MGB-L120 SFP-Port 1000Base-LX mini-GBIC module – 120km
MGB-L30 SFP-Port 1000Base-LX mini-GBIC module – 30km
MGB-L50 SFP-Port 1000Base-LX mini-GBIC module – 50km
MGB-L70 SFP-Port 1000Base-LX mini-GBIC module – 70km
MGB-LA10 SFP-Port 1000Base-LX mini-GBIC module – LC WDM (TX:1310nm), SM, 10km
MGB-LA20 SFP-Port 1000Base-LX mini-GBIC module – LC WDM (TX:1310nm), SM, 20km
MGB-LA40 SFP-Port 1000Base-LX mini-GBIC module – LC WDM (TX:1310nm), SM, 40km
MGB-LB10 SFP-Port 1000Base-LX mini-GBIC module – LC WDM (TX:1550nm), SM, 10km
MGB-LB20 SFP-Port 1000Base-LX mini-GBIC module – LC WDM (TX:1550nm), SM, 20km
MGB-LB40 SFP-Port 1000Base-LX mini-GBIC module – LC WDM (TX:1550nm), SM, 40km
MGB-LX SFP-Port 1000Base-LX mini-GBIC module
MGB-SX SFP-Port 1000Base-SX mini-GBIC module
Lo más reciente en Sistematics.info: