Warning: Trying to access array offset on value of type bool in /home/vhoblsvb/public_html/wp-content/plugins/woocommerce/includes/wc-template-functions.php on line 1605

Warning: Trying to access array offset on value of type bool in /home/vhoblsvb/public_html/wp-content/plugins/woocommerce/includes/wc-template-functions.php on line 1606

Warning: Trying to access array offset on value of type bool in /home/vhoblsvb/public_html/wp-content/plugins/woocommerce/includes/wc-template-functions.php on line 1607

Warning: Trying to access array offset on value of type bool in /home/vhoblsvb/public_html/wp-content/plugins/woocommerce/includes/wc-template-functions.php on line 1608

Warning: Trying to access array offset on value of type bool in /home/vhoblsvb/public_html/wp-content/plugins/woocommerce/includes/wc-template-functions.php on line 1617

Warning: Trying to access array offset on value of type bool in /home/vhoblsvb/public_html/wp-content/plugins/woocommerce/includes/wc-template-functions.php on line 1617

Warning: Trying to access array offset on value of type bool in /home/vhoblsvb/public_html/wp-content/plugins/woocommerce/includes/wc-template-functions.php on line 1605

Warning: Trying to access array offset on value of type bool in /home/vhoblsvb/public_html/wp-content/plugins/woocommerce/includes/wc-template-functions.php on line 1606

Warning: Trying to access array offset on value of type bool in /home/vhoblsvb/public_html/wp-content/plugins/woocommerce/includes/wc-template-functions.php on line 1607

Warning: Trying to access array offset on value of type bool in /home/vhoblsvb/public_html/wp-content/plugins/woocommerce/includes/wc-template-functions.php on line 1608

Warning: Trying to access array offset on value of type bool in /home/vhoblsvb/public_html/wp-content/plugins/woocommerce/includes/wc-template-functions.php on line 1617

Warning: Trying to access array offset on value of type bool in /home/vhoblsvb/public_html/wp-content/plugins/woocommerce/includes/wc-template-functions.php on line 1617

266,00 € 266,00 €
8-Port 10/100Mbps + 2G TP / SFP Combo Managed 802.3at PoE Switch
Descripción
High Power PoE for Security and Public Service PoE Applications
PLANET FGSD-1022HP, the next generation Managed PoE Switch, features IEEE 802.3af and High Power IEEE 802.3at Power over Ethernet (PoE) that combines up to 30 watts power output and data per port over one CAT 5E/6 Ethernet cable. It is designed specifically to satisfy the growing demand of higher power consuming network PD (powered devices) such as PTZ (Pan, Tilt & Zoom) / Speed Dome network cameras, multi- channel (802.11a / b / g / n) wireless LAN access points and other network devices by providing double PoE power than conventional 802.3af PoE currently.

Flexible and Centralized Power Management
The 8 PoE ports in the FGSD-1022HP support both 802.3af and 802.3at PoE standards and allows users flexibly connect standard and high powered devices simultaneously. By offering 150 watts PoE budget, eight 15.4 watts IEEE 802.3af devices or five 30 watts IEEE 802.3at devices can be easily installed without the power-socket limitation.
To facilitate power management, the FGSD-1022HP is implemented powerful PoE management features such as over temperature protection, usage threshold alert and auto power allocate to prevent power budget overloading. The PoE power budget can be allocated by priorities or classification and sent alert event logs when power usage reaches the defined threshold. The FGSD-1022HP enables centralization of the power supply and optimizes the installation and power management of remote network devices; therefore, it eliminates costs for additional AC wiring and reduces installation time.
IEEE 802.3at Power over Ethernet Pre-Standard Compliant
Till today, the IEEE 802.3af Power over Ethernet Standard has become popular yet the PoE demand still grows for increasing network-powered applications. With many critical applications appears, the IEEE 802.3af PoE standard may not afford the trend of higher power demand. Hence, the IEEE 802.3at Power over Ethernet pre-standard is defined to allow delivery of maximum up to 30 Watts input power to per PoE device. The IEEE 802.3at Power over Ethernet pre-standard is an ideal solution to fulfill the high power requirements directly via the RJ-45 Port interface. Compliant with IEEE 802.3at, the FGSD-1022HP possesses stronger power capability than the existing 802.3af PoE Switch.

Full-Functioned / Robust Layer 2 Features
The FGSD-1022HP can be programmed for basic switch management functions such as port speed configuration, Port aggregation, VLAN, Spanning Tree protocol, QoS, bandwidth control and IGMP Snooping. It provides IEEE 802.1Q Tagged VLAN and the VLAN groups allowed on the FGSD-1022HP will be maximally up to 256. Via aggregation of supporting port, the FGSD-1022HP allows the operation of high-speed trunk combining multiple ports and supports fail-over as well. In addition, SNTP, System log and Remote syslog provide alarm event record to the administrator for security monitoring.
Excellent Traffic Control
The PLANET FGSD-1022HP is loaded with powerful traffic management and QoS features to enhance services offered by Service Providers. The functionality includes QoS features such as wire-speed Layer 4 traffic classifiers and bandwidth limiting applications that are particular useful for multi-tenant unit, multi business unit, Telco, or Network Service Provider. It also empowers the enterprises to take full advantages of the limited network resources and guarantees the best performance in VoIP and Video conferencing transmission.
Powerful Management and Easy To Use
For efficient management, the FGSD-1022HP is equipped with console, WEB and SNMP management interfaces. With its built-in Web-Based management interface, the FGSD-1022HP offers an easy-to-use, platform-independent management and configuration facility. For text-based management, the FGSD-1022HP can be accessed via Telnet and the console port. It supports standard Simple Network Management Protocol (SNMP) and can be managed via any standard-based management software. Moreover, the FGSD-1022HP offers secure remote management by supporting SNMPv3 and SSL connection which encrypts the packet content at each session.
Powerful Security
The PLANET FGSD-1022HP offers comprehensive Access Control List (ACL) for enforcing security to the edge. Its protection mechanism also comprises Port-Based IEEE 802.1x user and device authentication. The Port-security is effective in limiting the numbers of clients pass through so that network administrators can now construct highly secured corporate networks with considerably less time and effort than before.
Flexibility and Extension solution
The two mini-GBIC slots are compatible with 1000Base-SX/LX and WDM SFP (Small Form Factor Pluggable) fiber-optic modules. The distance can be extended from 550 meters (Multi-Mode fiber cable) up to 10/30/50/70/120 kilometers (Single-Mode fiber or WDM fiber cable). They are well suited for applications within the enterprises data centers, distributions or remote PoE equipments data link.
Train Station – IEEE 802.3at compliant IP Surveillance and Wireless powered devices
Having the capability of IEEE 802.3at Power over Ethernet pre-standard, the FGSD-1022HP can directly connect with any IEEE 802.3at end-nodes like PTZ (Pan, Tilt & Zoom) network cameras, PTZ Speed Dome cameras, color touch- screen Voice over IP (VoIP) telephones, and multi- channel wireless LAN access points. Besides the wired Internet network, the wireless LAN would be more efficient for the transportation station to provide high-speed and wide area Internet services for travelers. By adopting PoE Wireless LAN structure, the transportation authority gains benefit from less cost while providing better Internet services in wider areas for the travelers.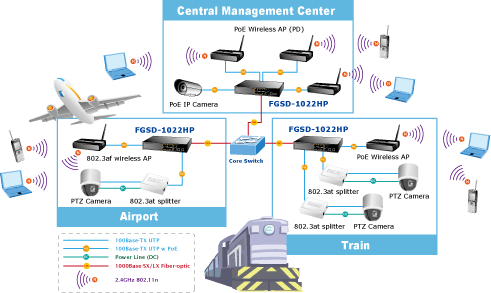 IP Office
With the business office expansion, the additional telephones required could be installed in less cost via the implementation of PoE IP Telephony system than that of the traditional circuit wiring telephony system. PLANET FGSD-1022HP PoE Managed Switch helps enterprises to create an integrated data, voice, and powered network. PLANET IEEE 802.3af compliant IP Phones can be installed without the need of an additional power cable because the power can be provided via the standard Ethernet cable from the connected FGSD-1022HP. PoE IP Phones and Analog Telephony Adapter work perfectly with the FGSD-1022HP which injects power through the Ethernet cables.
With the FGSD-1022HP, IP Telephony deployment becomes more reliable and cost effective, which helps enterprises save tremendous cost when upgrading from the traditional telephony system to IP Telephony communications infrastructure.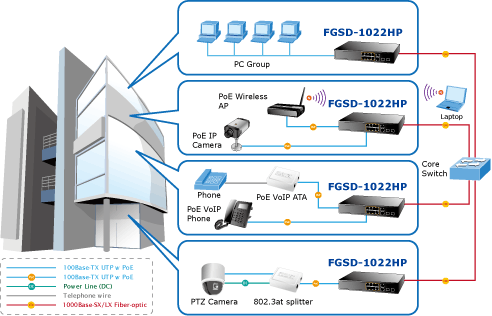 HARDWARE SPECIFICATION
Hardware Version 2
10/100Mbps Copper Ports 8 10/ 100Base-TX RJ-45 Auto-MDI/MDI-X ports
1000Mbps Copper Ports 2 10/100/1000Mbps RJ-45 Auto-MDI/MDI-X ports
SFP/mini-GBIC Slots 2 1000Base-SX/LX/BX, shared with Port-9~Port-10
Switch Architecture Store-and-Forward
Switch Fabric 5.6Gbps / non-blocking
Switch Throughput 4.16Mpps @64Bytes
Address Table 8K entries
Share Data Buffer 2 Mbits
Maximum Frame Size 9K Bytes
Flow Control
Back pressure for Half-Duplex
IEEE 802.3x Pause Frame for Full-Duplex
LED
System: Power
10/100 PoE Port : Link/Activity (Green), PoE In-Use (Amber)
Gigabit Port: 1000 LNK / ACT(Green), 10/100 LNK / ACT(Amber)
Reset Button
< 5 secs: System reboot > 10 secs: Factory Default
Dimension (W x D x H) 330 x 155 x 43.5 mm
Weight 1.74Kg
Power Input 100 – 240VAC, 50 – 60Hz, Auto-sensing
Power Consumption 200W / 686.2BTU
POWER OVER ETHERNET
PoE Standard IEEE 802.3af / IEEE 802.3at Power over Ethernet / PSE
PoE Power Supply Type End-Span
PoE Power Output
Per Port 56V DC, 350mA . Max. 15.4 Watts (IEEE 802.3af)
Per Port 56V DC, 590mA. Max. 30 Watts (IEEE 802.3at)
Power Pin Assignment 1/2(+), 3/6(-)
PoE Power Budget 150 Watts
Max. number of Class 2 PD 8
Max. number of Class 3 PD 8
Max. number of Class 4 PD 5
LAYER 2 FUNCTION
Management Interface Console, Telnet, Web Browser, SSL, SNMPv1, v2c, v3
Port Configuration
Port disable/enable
Auto-negotiation
10/100/1000Mbps full and half duplex mode selection
Flow Control disable / enable
Port Description
Port Status
Display each port's speed duplex mode, link status and Flow control status
Auto negotiation status, trunk status
Port Mirroring
TX / RX / Both
1 to 1 monitor
Bandwidth Control
Ingress / Egress Rate Control
 •Allow to configure per 128Kbps
VLAN
IEEE 802.1Q Tag-Based VLAN, up to 255 VLANs groups, out of 4041 VLAN IDs
Port-Based VLAN
Q-in-Q tunneling
GVRP for VLAN Management, up to 128 dynamic VLAN entries
Private VLAN Edge (PVE / Protected port) with two protected port groups
Link Aggregation
Static Port Trunk
IEEE 802.3ad LACP (Link Aggregation Control Protocol)
13 groups of 8-Port trunk support
QoS
4 priority queue
Traffic classification based on:
 -Port priority
 -802.1p priority
 -DSCP/TOS field in IP Packet
IGMP Snooping IGMP (v1/v2) Snooping, up to 256 multicast Groups
Access Control List
IP-Based Layer 3 / Layer 4 ACL
Up to 200 ACL rule entries
802.1X Port Access Control Supporting EAP-MD5, EAP-TLS and EAP-PEAP authentication types
SNMP MIBs
RFC-1213 MIB-II
RFC-2863 Interface MIB
RFC-2665 EtherLike MIB
RFC-1493 Bridge MIB
RFC-2819 RMON MIB (Group 1, 2, 3,9)
RFC-2737 Entity MIB
POWER-ETHERNET-MIB
STANDARDS COMPLIANCE
IEEE 802.3: 10Base-T
IEEE 802.3u: 100Base-TX
IEEE 802.3z: 1000Base-SX/LX
IEEE 802.3ab: 1000Base-T
IEEE 802.3x: Flow Control and Back pressure
IEEE 802.3ad: Port trunk with LACP
IEEE 802.1D: Spanning Tree Protocol
IEEE 802.1s: Multiple Spanning Tree Protocol
IEEE 802.1p: Class of Service
IEEE 802.1Q: VLAN Tagging
IEEE 802.1x: Port Authentication Network Control
IEEE 802.3af: Power over Ethernet
IEEE 802.3at: Power over Ethernet (Pre-Standard)
RFC 768: UDP
RFC 783: TFTP
RFC 791: IP
RFC 792: ICMP
RFC 854: Telnet
RFC 2068: HTTP
RFC 1112: IGMP version 1
RFC 1157: SNMPv1
RFC 1305: NTP
RFC 1902: SNMPv2c
RFC 2138: RADIUS
RFC 2236: IGMP version 2
RFC 2576: SNMPv3
RFC 5424: Syslog
ENVIRONMENT
Operating
Temperature: 0 ~ 50 Degree C
Relative Humidity: 20 ~ 95%
Storage
Temperature: -10 ~ 70 Degree C
Relative Humidity: 20 ~ 95% (non-condensing)
Lo más reciente en Sistematics.info: