Warning: Trying to access array offset on value of type bool in /home/vhoblsvb/public_html/wp-content/plugins/woocommerce/includes/wc-template-functions.php on line 1605

Warning: Trying to access array offset on value of type bool in /home/vhoblsvb/public_html/wp-content/plugins/woocommerce/includes/wc-template-functions.php on line 1606

Warning: Trying to access array offset on value of type bool in /home/vhoblsvb/public_html/wp-content/plugins/woocommerce/includes/wc-template-functions.php on line 1607

Warning: Trying to access array offset on value of type bool in /home/vhoblsvb/public_html/wp-content/plugins/woocommerce/includes/wc-template-functions.php on line 1608

Warning: Trying to access array offset on value of type bool in /home/vhoblsvb/public_html/wp-content/plugins/woocommerce/includes/wc-template-functions.php on line 1617

Warning: Trying to access array offset on value of type bool in /home/vhoblsvb/public_html/wp-content/plugins/woocommerce/includes/wc-template-functions.php on line 1617

Warning: Trying to access array offset on value of type bool in /home/vhoblsvb/public_html/wp-content/plugins/woocommerce/includes/wc-template-functions.php on line 1605

Warning: Trying to access array offset on value of type bool in /home/vhoblsvb/public_html/wp-content/plugins/woocommerce/includes/wc-template-functions.php on line 1606

Warning: Trying to access array offset on value of type bool in /home/vhoblsvb/public_html/wp-content/plugins/woocommerce/includes/wc-template-functions.php on line 1607

Warning: Trying to access array offset on value of type bool in /home/vhoblsvb/public_html/wp-content/plugins/woocommerce/includes/wc-template-functions.php on line 1608

Warning: Trying to access array offset on value of type bool in /home/vhoblsvb/public_html/wp-content/plugins/woocommerce/includes/wc-template-functions.php on line 1617

Warning: Trying to access array offset on value of type bool in /home/vhoblsvb/public_html/wp-content/plugins/woocommerce/includes/wc-template-functions.php on line 1617

1.349,00 € 1.349,00 €
24-Port Gigabit with 4 Optional 10G slots Layer 3 Managed
Descripción
IPv6 Routing and 10G Ethernet Switch Solutions for the Next Generation Internet Protocol
IPv6 (Internet Protocol version 6) is well known as the next generation Internet Protocol to solve the lack of available IPv4 addresses. IPv6 can provide larger address space than IPv4 for the rapid growing networks. To provide smooth migration path from IPv4 to IPv6 for the future network upgrades, PLANET releases the multi-layer IPv6 / IPv4 Gigabit Ethernet Routing Switch, XGS3-24042, to satisfy the bandwidth requirements and protect network investment for enterprises. The XGS3-24042 is implemented with the following advanced technologies:

• IPv6 / IPv4 Routing and Management
  • 10G Ethernet Switching
  • Single IP Address Management
  • Redundant Power System
The XGS3-24042 provides 24 fixed 10/100/1000Mbps copper ports with 4 shard 100/1000Base-X SFP slots, two optional 2-Port 10Gbps SFP+ uplink module slots in a compact 1U height format. Positioned as the distribution or aggregation layer switch of large networks, the XGS3-24042 supports IP Stacking technology that helps to manage and configure up to 24 units via one single IP address easily. It serves for campus networks and metropolitan IP networks by offering intelligent security features, high performance and flexibility. The XGS3-24042 can also be an excellent choice as a core layer switch for enterprises, data centers or small & medium-sized networks.
Supports 10Gb Ethernet
10Gb Ethernet which adopts full-duplex technology instead of low-speed, half-duplex CSMA/CD protocol, is a big leap in the evolution of Ethernet. 10Gb Ethernet can be deployed in star or ring topologies. With 10Gb Ethernet technology applied, the XGS3-24042 provides broad bandwidth and powerful processing capacity. It is suitable for metropolitan networks and wide area networks. Using the XGS3-24042, users can simplify network structures and reduce cost of network construction.
Networking Protocols
The XGS3-24042 supports various networking protocols to meet the requirements of complex network constructions. It is compatible with 802.1D/w/s, 802.1Q, 802.1p, 802.3ad, 802.3x, GVRP, DHCP, SNTP and etc. The Switch also supports multicast protocols including IGMP, DVMRP and PIM. Moreover, the XGS3-24042 complies RIPv1/2, OSPF and IPv6.
Reliable Power Supply
The XGS3-24042 provides AC/DC power redundancy. It can be deployed with 100~240V AC power input, -48V DC power input or 100~240V AC power/-48V DC power input simultaneously.
ACL
The XGS3-24042 supports ACL policies comprehensively. The traffic can be classified by source/destination IP addresses, source/destination MAC addresses, IP protocols, TCP/UDP, IP precedence, time ranges and ToS. Moreover, various policies can be conducted to forward the traffic. The XGS3-24042 also provides IEEE 802.1x port based access authentication, which can be deployed with RADIUS, to ensure the port level security and block illegal users.
QoS
The XGS3-24042 switch fully supports DiffServ Module. Users can specify a queue bandwidth on each port. WRR/SP/SWRR scheduling is also provided. The XGS3-24042 supports the port security to enable users to deploy trusted CoS, DSCP, IP precedence and port priority. Users can modify packets' DSCP and COS values so the traffic can be classified by port, VLAN, DSCP, IP precedence and ACL table. User can also modify packets' DSCP and IP precedence values to specify different bandwidths for voice / data / video to customize different qualities of service.
Perfect Web Management
The XGS3-24042 supports SNMP, In-band and Out-of-band Management, CLI and WEB interface, and RMON. It can mail the correlative sensitive information to the administrator abide by SMTP protocol. The XGS3-24042 supports SSH protocol to ensure the configuration management security of the switch.
Core Routing Switch
With 24 Gigabit ports with 4 shared SFP fiber interfaces and Layer 3 IP / Multicast Routing capability, the XGS3-24042 provides a cost-effective and high-performance solution for Telecom, Network Service Providers and enterprises.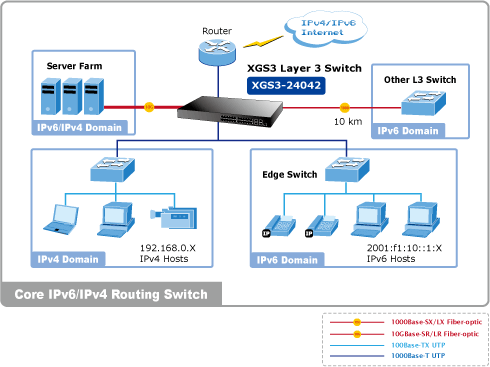 Campus / ISP / Telecom High density and VRRP Backbone Routing Switch
With the built-in robust IPv4 / IPv6 Layer 3 IP and Multicast routing protocols, the XGS3-24042 ensures reliable routing between VLANs and network segments. The routing protocols can be applied by VLAN interface with up to 1K routing entries. The high-density routing interfaces provide expandability to meet the growing network's needs. Moreover, with the hot VLAN feature – Q-in-Q (VLAN stacking) supported, it allows the service providers to offer certain services such as Internet access on specific VLANs for specific customers and yet still provides other types of services for their other customers on other VLANs.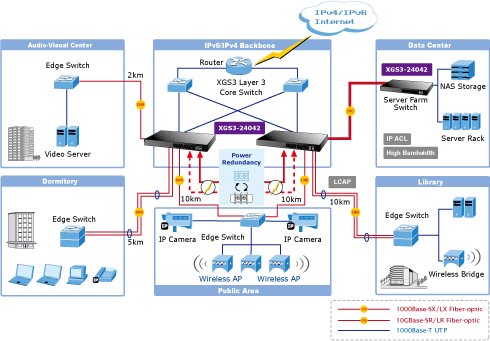 Data Center Security and QoS Switch
The XGS3-24042 performs 128 Gigabits per second, non-blocking switch fabric so it can easily provide a local, high bandwidth, and Gigabit Ethernet network for backbone of your department. With the four built-in SFP ports, the XGS3-24042 provides the uplink to the backbone network through Gigabit Ethernet LX/SX SFP modules. It further improves the network efficiency and protects the network clients by offering the security and QoS features.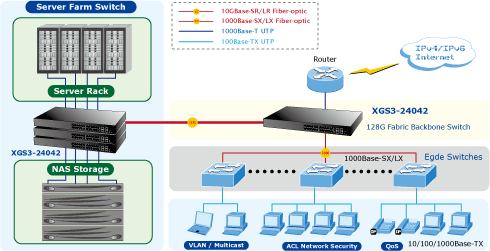 HARDWARE SPECIFICATION
Copper Ports 24 10/100/1000Base-T RJ-45 Auto-MDI/MDI-X ports
SFP/mini-GBIC Slots
4 SFP slots, 100/1000Base-X SFP transceiver compatible
Shared with Port-21 to Port-24
Expansion Slots
2 slots for PLANET XGS3-2SFP+, 2-Port 10G SFP+ optic module
Support module Hot-swappable
Switch Processing Scheme Store-and-Forward
Switch Fabric 128Gbps
Throughput 95Mpps@64Bytes
Address Table 16K entries
Share Data Buffer 1.5Mbytes
VLAN Table 4K
ACL Table 1K
Routing Table 13K
Layer 3 Interface 1K
Port Queues 8
Flow Control
IEEE 802.3x Pause Frame for Full-Duplex
Back pressure for Half-Duplex
Jumbo Frame 9Kbytes
LED
System: Power, SYS diagnostic, Redundant Power, Module, Stack
Ports: 10/100/1000 Link/Act
Dimension (W x D x H) 415 x 325 x 44.5 mm, 1U height
Weight 4.3kg
Power Requirement
AC: 100 ~ 240VAC, 50 / 60Hz, Auto-sensing
DC: -48V DC
Power Consumption 79 Watts max.
IPv4 LAYER 3 FUNCTIONS
IP Routing Protocol
Static Route, RIPv1/v2, OSPFv2, BGPv4
Policy-Based Routing (PBR)
LPM Routing (MD5 authentication)
Multicast Routing Protocol IGMP v1 / v2 / v3, DVMRP, PIM-DM/SM, PIM-SSM
Layer 3 Protocol VRRP v1/v3, ARP, ARP Proxy
Routing Interface Per VLAN
IPv6 LAYER 3 FUNCTIONS
IP Routing Protocol RIPng, OSPFv3, BGPv4+
Multicast Routing Protocol
PIM-SM/DM for IPv6
MLD for IPv6 (v1)
MLDv1/v2
MLD Snooping, 6 to 4 Tunnels
Multicast receive control
Illegal multicast source detect
Layer 3 Protocol Configured Tunnels, ISATAP, CIDR
LAYER 2 FUNCTION
Port Configuration
Port disable/enable
Auto-negotiation 10/100/1000Mbps full and half duplex mode selection
Bandwidth control on each port
Port Loopback detect
VLAN
802.1Q Tagged Based VLAN, up to 4K VLAN groups
Q-in-Q
GVRP
Private VLAN
Voice VLAN
MAC-based VLAN
Protocol-based VLAN
Spanning Tree Protocol
STP, IEEE 802.1D (Spanning Tree Protocol)
RSTP, IEEE 802.1w (Rapid Spanning Tree Protocol)
MSTP, IEEE 802.1s (Multiple Spanning Tree Protocol, spanning tree by VLAN)
Root Guard
BPDU Guard
Link Aggregation
Static Trunk
IEEE 802.3ad LACP
Supports 16 groups of 8-Port trunk
QoS
Traffic classification based, Strict priority and WRR
8-level priority for switching
 - Port Number
 - 802.1p priority
 - DSCP/TOS field in IP Packet
Policy-based DiffServ
Multicast
IGMP v1 / v2 / v3 Snooping
IGMP Proxy
IGMP Querier mode support
MLD v1/v2, MLD v1/v2 Snooping
Access Control List
Support Standard and Expanded ACL
IP-Based ACL / MAC-Based ACL
Time-Based ACL
ACL Pool can be used for QoS classification
Up to 4K entries
Security
Support MAC+ port binding
IPv4 / IPv6 + MAC+ port binding
IPv4 / IPv6 + port binding
Support MAC filter
ARP Spoofing Prevention
ARP Scanning Prevention
IP Source Guard
Authentication
IEEE 802.1x Port-Based network access control
AAA Authentication: IPv4 / IPv6 over RADIUS
SNMP MIBs
RFC-1213 MIB-II
IF-MIB
RFC-1493 Bridge MIB
RFC-1643 Ethernet MIB
RFC-2863 Interface MIB
RFC-2665 Ether-Like MIB
RFC-2674 Extended Bridge MIB
RFC-2819 RMON MIB (Group 1, 2, 3 and 9)
RFC-2737 Entity MIB
RFC-2618 RADIUS Client MIB
RFC-2933 IGMP-STD-MIB
RFC-3411 SNMP-Frameworks-MIB
IEEE 802.1X PAE
LLDP
MAU-MIB
MANAGEMENT FUNCTION
System Configuration Console, Telnet, SSH, Web Browser, SSL, SNMPv1, v2c and v3
Management
Supports the unite for IPv4 / IPv6 HTTP and SSL
Supports the user IP security inspection for IPv4 / IPv6 SNMP
Supports MIB and TRAP
Supports IPv4 / IPv6 FTP/TFTP
Supports IPv4 / IPv6 NTP
Supports RMOM 1, 2, 3, 9 four group
Supports the RADIUS authentication for IPv4 / IPv6 telnet user name and password
Supports IPv4 / IPv6 SSH
The right configuration for users to adopt radius server's shell management
Supports the function for timing-reset bases needs
Supports CLI, Console (RS-232), Telnet
Supports SNMPv1 / v2c / v3
Supports Security IP safety net management function:avoid unlawful landing at nonrestrictive area
Supports TACACS+
STANDARDS CONFORMANCE
Regulation Compliance FCC Part 15 Class A, CE
Standards Compliance
IEEE 802.3 10Base-T
IEEE 802.3u 100Base-TX
IEEE 802.3z Gigabit SX/LX
IEEE 802.3ab Gigabit 1000Base-T
IEEE 802.3ae 10 Gigabit Ethernet
IEEE 802.3x Flow Control and Back pressure
IEEE 802.3ad Port trunk with LACP
IEEE 802.1d Spanning Tree protocol
IEEE 802.1w Rapid Spanning Tree Protocol
IEEE 802.1s Multiple Spanning Tree Protocol
IEEE 802.1p Class of Service
IEEE 802.1Q VLAN Tagging
IEEE 802.1x Port Authentication Network Control
IEEE 802.1ab LLDP
ENVIRONMENT
Operating
Temperature: 0 ~ 50 Degree C
Relative Humidity: 5 ~ 90% (non-condensing)
Storage
Temperature: -10 ~ 70 Degree C
Relative Humidity: 5 ~ 90% (non-condensing)
ACCESSORIES
XGS3-2SFP+ 2-Port 10G SFP+ Optic Module for XGS3-24042
MTB-LR SFP+ Port 10GBase-LR mini-GBIC module (Single mode / 1310nm / max. 10km)
MTB-SR SFP+ Port 10GBase-SR mini-GBIC Module (Multi-mode / 850nm / max. 300m)
Lo más reciente en Sistematics.info: